~
Nice to see all here are for free speech.
I wonder what level of free speech would any of you enjoy had you lived in Nazi germany.
Hitler was a dictator who was not shy of murdering his own man ( see night of the long knifes ) , locking his own people in concentration camps ( first concentration camps where built in germany right after the nazi came to power in 1933 where for german citizens ) and executing anyone daring to speak against the regime ( see the white rose - a group of students that apposed the war and the regime whose members where executed after they distributed leaflets in the university.
The White Rose was a non-violent, intellectual resistance group in Nazi Germany, consisting of students from the University of Munich and their philosophy professor. The group became known for an anonymous leaflet and graffiti campaign, lasting from June 1942 until February 1943 . Six of its members where executed.
Hans and Sophie Scholl members of the white rose executed on the 22 February 1943
Stanm honoring Hans and Sophie Scholl
Sophie Scholl :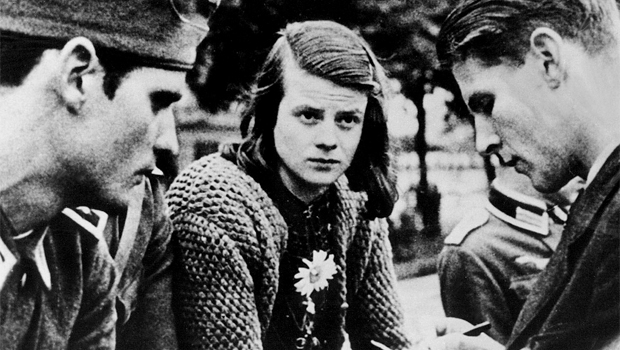 The White Rose pavement memorial just outside the main entrance of Munich University :
This is the leaflets handed out by the white rose Part concerning the holocaust :
"We do not want to discuss here the question of the Jews, nor do we want in this leaflet to compose a defense or apology. No, only by way of example do we want to site the fact that since the conquest of Poland three hundred thousand Jews have been murdered in this country in the most bestial way. Here we see the most frightful crime against human dignity, a crime that is unparalleled in the whole of history. For Jews, too, are human beings - no matter what position we take with respect to the Jewish question - and a crime of this dimension has been perpetrated against human beings. Someone may say that the Jews deserve their fate. This assertion would be a monstrous impertinence; but let us assume that someone said this - what position has he then taken toward the fact that the entire Polish aristocratic youth is being annihilated? (May God grant that this program has not yet fully achieved its aim as yet!) All male offspring of the houses of the nobility between the ages of fifteen and twenty were transported to concentration camps in Germany and sentenced to forced labor, and all the girls of this age group were sent to Norway, into the bordellos of the SS!
Why tell you these things, since you are fully aware of them - or if not of these, then of other equally grave crimes committed by this frightful sub-humanity? Because here we touch on a problem which involves us deeply and forces us all to take thought. Why do German people behave so apathetically in the face of all these abominable crimes, crimes so unworthy of the human race? Hardly anyone thinks about that. It is accepted as fact and put out of mind. The German people slumber on in their dull, stupid sleep and encourage these fascist criminals; they give them the opportunity to carry on their depredations; and of course they do so. Is this a sign that the Germans are brutalized in their simplest human feelings, that no chord within them cries out at the sight of such deeds, that they have sunk into a fatal consciencelessness from which they will never, never awake? It seems to be so, and will certainly be so, if the German does not at last start up out of his stupor, if he does not protest wherever and whenever he can against this clique of criminal, if he shows no sympathy for these hundreds of thousands of victims. He must evidence not only sympathy; no, much more: a sense of complicity in guilt. "
all of the white rose leaflets can be found here :
http://www.holocaustresearchproject.org ... flets.html