Here the shysters go again. More so called 'proof of the holocaust' that is as fake and stupid as it gets.
We have the site of an alleged 'extermination of 34,000 Jews' supposedly shot into Babi Yar ravine shown. Original linked photo with saved photo below.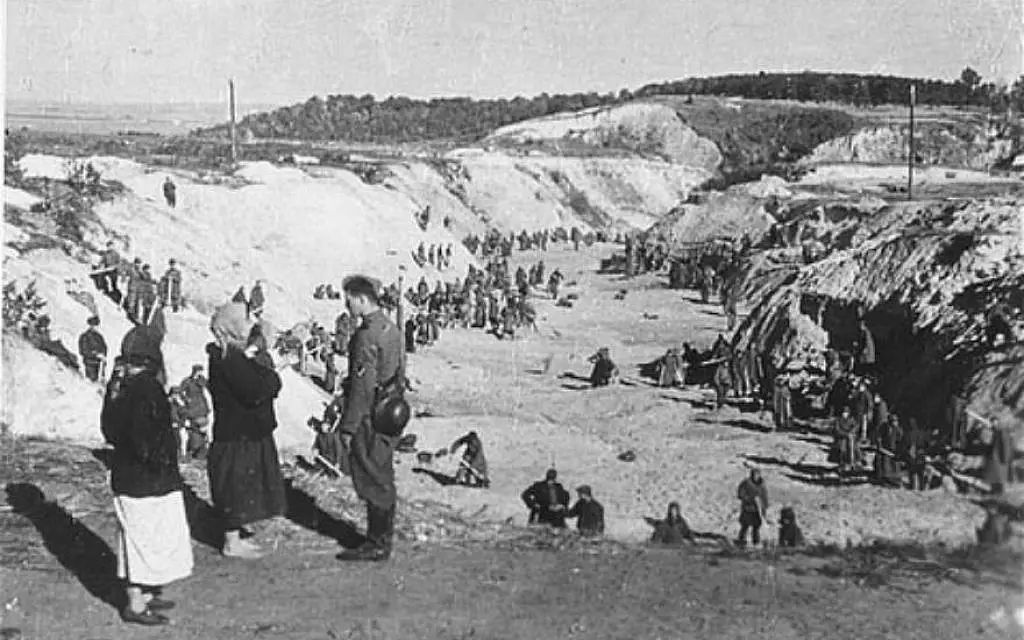 caption:
Aftermath of the Babi-Yar massacre. At least 34,000 Jews died here in late September 1941.
source:
https://www.jewishvirtuallibrary.org/babi-yar
Take a look. What do you see?
Of course German soldiers would just hang out, chatting with women witnesses right after an alleged massacre of those 34,000 Jews which is alleged to have been a secret operation, for which no human remains have ever been found.
more:
former Einsatzgruppen Members Reject Bizarre Claims of Mass Shootings / Babi Yar, etc.
viewtopic.php?f=2&t=11396
!!
Excavation Result: No Enormous Human Remains as Alleged at Babi Yar !! ... of
course
viewtopic.php?f=2&t=11314
aerial of Babi Yar at exact time of the absurdly alleged shooting of 34,000 Jews
:
Nothing happening that would necessarily be happening IF the story was factual. Think about what you
would
be seeing if the Zionist lie was factual.
also see:
'What Happened at Babi Yar?
Fact vs. Myth', Using air photos and wartime newspapers, Ukrainian writer MICHAEL NIKIFORUK attacks a few myths about a wartime atrocity.
http://www.fpp.co.uk/Auschwitz/BabiYar/Nikiforuk.html
and:
' Babi Yar: Critical Questions and Comments'
http://codoh.com/library/document/920/?lang=en
and:
Bodies at Babi Yar, John Gibbons Reporting
viewtopic.php?f=2&t=7302
and:
'Babi Yar 'massacre' debunked'
viewtopic.php?f=2&t=41
It's no wonder that The Usual Enemies of Free Speech want Revisionists imprisoned, attacked, & persecuted. The 'holocaust' is so incredibly easy to debunk that suppression of inquiry into it & elimination of free speech about the obviously fake narrative is their only recourse.
Only lies require censorship.
No alleged human remains of millions in allegedly known locations, no 'holocaust'.
- Hannover