Sylvia Stolz arrested, to be jailed again for 18 months … for what?
https://carolynyeager.net/sylvia-stolz- ... 80%A6-what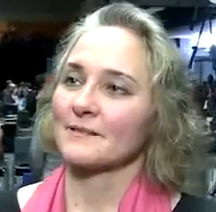 IN THE MORNING HOURS OF 23 MAY 2019, FRAU SYLVIA STOLZ WAS ARRESTED at her place of residence by the helpers of the Federal Republic of Germany 'Justice' system.
The prison sentence results from the "legally binding judgment" of Feb. 15, 2018, against which appeals and constitutional complaints were filed.
"On 24 November 2012 in Chur (Switzerland), Sylvia Stolz, the revision leader, gave a lecture at the 8th International Conference of the "Anti-Censorship Coalition" (AZK) entitled "Sprechverbot - Beweisverbot - Verteidigungsverbot, Die Wirklichkeit der Meinungsfreiheit." In the lecture, the fully qualified lawyer subjected the criminal proceedings for so-called "Holocaust denial" to a substantiated legal-scientific criticism with regard to the problem of criminal law determination.
On 25 February 2015, the Munich Regional Court II in the first instance imposed 1 year and 6 months in prison without probation for "Holocaust denial" (first conviction) and in the judgment placed great emphasis on her earlier conviction for "Holocaust denial" in 2008.
1st appeal:] By a decision of May 3, 2016 (receipt 17.9.2016), the Federal Court of Justice reversed the judgment with regard to the sentence and referred the case back to the Munich Regional Court II for a new sentencing. (Reasons for the revocation were: acquittal with regard to "abuse of a professional title" and error with regard to the penalty frame for "Holocaust denial.")
The judgement of the LG München II of 25 February 2018 is 1 year and 6 months in prison (final judgement). The chamber declared itself bound by the conviction in the first instance.
The first-instance judgment of 15 February 2015, however, generates neither binding effect nor partial legal force [...]".
This is certainly not easy for laymen to understand. But for people who call themselves "jurists," this should be a very clear case. All motions submitted in this case - including those of the defense counsel - as well as the appeal for revision and the appeal for fundamental rights are suitable to bear witness to the violations committed by the helpers.
For decent people, this renewed act of power demonstration is no reason to bury their heads in the sand. With each blow to which the dying beast - the FRG and its backers - still reaches out, it drives more people into the light. The clearer the beast proves its helplessness by the fact that it can keep up its lies only by using violence, the sooner its situation becomes clear to their enslaved people.
18 months our Sylvia must now sit now in prison (along with 90-year old Ursula Haverbeck), because there are still too many ignorants, cowards and hypocrites in "our" ranks. Shame on yourself if you are one of them!
The address in "Aichach" has not yet been confirmed. As soon as we have more detailed information, it will be disseminated in the world network.
-- Thanks to Lady Michèle Renouf for the notification and endederluege.blog for the text. -cy