March 17, 2005
First letter from EZ out of Germany
Zundelsite.org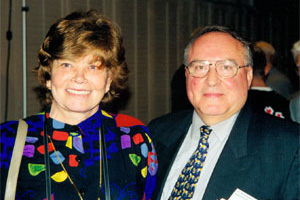 Yesterday I received my first letter from Ernst since he was deported back to Germany - what a relief! I did not know what to think or to expect - I must say that this letter has pretty much succeeded to put my mind at lease.
I am translating portions of it for my readers as best as I can, but this is not a word-for-word translation - I don't have time for a careful translation, and could not do a good job in any case, having only a limited grasp of idiomatic German. I just wanted to let my readers know how they can now contact Ernst - and what the rules and regulations are so that he does not get in difficulty over careless correspondence.
I kept private comments out. I noted above all that there is not a word about Ernst's legal situation, and I assume he has been told he can't discuss aspects of his upcoming trial. Please respect that - and refrain from any sensitive political comments. Keep your letters strictly on a personal level, just to be on the safe side.
But do let Ernst know that he is not alone and not forgotten - that millions care about him and watch every move his enemies will make to somehow do him in.
You will be able to read much between the lines in this letter, as I have. When I think about how he was taken in style to Europe after the hell-hole of Toronto and the abuse he had to endure in Canada, I for one draw a conclusion or two. I am sure you will, too. If you have comments about that, send them to me - not to him!
Here is Ernst's letter. Read on:
[START]
My temporary address:
Ernst Zundel
JVA - Mannheim
D-68169 Mannheim
Herzogenried Strasse 111
Germany
March 4, 2005
My dear Ingrid -
I write to you in German, even though I know that you prefer and are more fluent in English, but the judge has explained to me that letters in foreign languages take longer until they are read by the censors because there is a dearth of (in our case) English-language prosecutors. Germany is not a classical immigration country like Canada or America where you find foreign speaking people on every corner and in every walk of life.
Also, dear Ingrid, try to write your letters in German. You don't have to be embarrassed if you make mistakes because our destiny does not hinge on such mistakes except in cases of court documents. In that case, send them to [our lead attorney] because the rules for correspondence are very, very strict. Also, no inserts in letters!
I don't want to have any mistakes happening because here we have different laws and habits. Speaking of correspondence, Toronto was a dream compared to what is NOT allowed here - save your Priority Post missives until further notice. Listen carefully to [the attorney's] advice because I want to feel my way first [until I know what is allowed and what is not.]
Listen and read carefully, Ingrid! (underlined)
If I understood the judge correctly, while I am still in investigative detention, I am not allowed to telephone with anybody - not even you or [my sister], or my boys. The kind of lively correspondence I enjoyed in Toronto is impossible here for the time being. Please, Ingrid, tell that to my siblings and friends, also impress upon them to add nothing [no inserts] in their letters. An exception are three [European] postage stamps for standard letters, but no more. Otherwise, they will get confiscated, and no one is helped that way.
Now you will want to know what happened to me since we talked for the last time the evening before my departure. A dramatic story that fits perfectly into the snow storms of my dreams and into the movie [you are working on].
While I was still in the Detention Center in Toronto, everything dissolved without a hitch, very efficiently, thanks to [one of] the security chief[s] who fussed over me like my mother and treated me with courtesy. Even my pencils, big and little, colors and all, were allowed to be taken out by Joe [a friend] and Paul Fromm. Please request them immediately via registered letter, as well as all those torn envelopes and addresses from all corners of the world received during the week preceding my departure. I received correspondence from Mongolia, Egypt, Tahiti, and even Reunion, a small island near Madagascar. The letter from Mongolia was from an international businessman who described how he had done a program about my case in Seoul, South Korea, where the business community hadn't heard about it yet.
My being kicked out of Canada was not without its high points. I had spent the entire weekend with letters and calls saying good-bye. I called all attorneys from coast to coast, in Canada and in America - even our "hillbilly" attorney. [Private joke!] Be sure to thank him again! In case there are legal questions, have Anneliese [our translator] take care of that because our cases in the US and Canada will proceed as planned. According to our attorneys, our chances are still excellent there.
I had not been told what time I would be picked up. I worked throughout most of the night and even had somebody wake me after only two hours of sleep so I could continue writing letters. I knew that both Lufthansa and Air Canada were leaving about 19:00 p.m. and therefore I assumed I still had time until noon. Well, as my mother always said, we plan and God steers!
At five o-clock in the morning there stood two uniformed guards in front of my door to take me to the security chief for good-byes. They kept hurrying me, but I wasn't ready! Thereupon, several of my guards who had taken care of my needs for these past two years telephoned the chief and told him that I needed additional time - and even helped me pack - and away we went to check out!
The day before, of the captains had unleashed a rumor that I was going to be deported back to the United States, which of course, I did not believe, even though apparently the gullible ones did. Only at that point did I realize that something strange was going on - my additional body guards were all in civilian clothes!
Outside there raged a typical Canadian blizzard. Only with difficulty did we move along the road in several vehicles. I was in a mini-bus with three civilian-clad officials. When I saw that we passed the regular airport and aimed for the government/ministers' planes and charter/executive jets, even several Lear jets - the kind the CIA uses to fly its victims to the torture chambers - I made a weak joke to my RCMP companion: "This looks as though we are talking about an Arar-type rendition" - and at that point a big, impressive-looking man, mid-fifties, informed me that for security reasons the government had rented a two-turbo executive jet [?] for the enormous sum of $50,000. That's right! You read right! Including two pilots and a Purser [?] who was responsible for food, drinks etc.
Normally these smallish bomber-jets [?] , 35 seats, are in regional service and have a Europe-wide reach. For the convenience of government executives there are built-in club-type swivel chairs, more beautiful and convenient than first-class airline seats, with two pull-out couches, a bar, television, DVD and CD players for approximately 12 persons.
The plane flew flawlessly, without any noise. After two years, I had my first real, heavenly coffee, lavish, magnificent food, everything top notch, big fat strawberries, grapes as big as plums, all kinds of southern fruit, chocolate, cakes, pies - it was just like Schlaraffia! The Chief of the Canadian Deportation Department, a Mr. Morris, as well as Mr. Mitchell, and an RCMP official, Shawn, who had accompanied me often on the way to court as Chief of my seven-head body guards, were present. The atmosphere was harmonious. We had fine conversations. They all knew of my case. I was known to them since childhood, or they had learned of me in high school and at university where my freedom of speech case was part of the curriculum. They had all heard of me and studied me - there was no lack of conversation topics. One of them mentioned that he would tell his children and grandchildren that he was the one who had accompanied me to Europe.
We landed. Mr. Morris thanked me that I had caused no trouble being picked up and boarded, whereupon Shawn, the RCMP man, added that I had told the judge I would leave Canada under my own steam, should the government decide against me. Awe all around! Averted eyes and uncomfortable silence! I took that opportunity to make a little speech, thanked them for their considerate treatment of me and shook everybody's hand, holding their glance and giving them one last, firm what you call the "Zundel Stare."
Looking out of the window, I saw police cars and "Bundesgrenzschutzautos" [?] blue lights flashing, encircling and surrounding the jet from every which direction. I was given a piece of paper from the JVA Mannheim with the following: Zundel, Ernst. 24.4.39. Sex: Male. Religion: None. Family status: Married. Nationality: Germany. Profession: None. I tried to add, "Professional Prisoner", but that was not accepted. "Retired" didn't count either.
I was arrested on the soil of the Frankfurter Airport on March 3, 2005 - one minute after midnight, one step removed from the airplane ladder, again away from the main terminal, in the area where the expensive executive planes are parked. Off we went, with blue lights flashing, to the immigration screening area which I already knew from previous experience - with one exception: most of the male and female officials could have been my children or even grandchildren. Through my decades-long activism on behalf of my homeland I have become a part of living history.
There was much media attention. Everywhere there was filming and photographing. Throughout, the officials conducted themselves correctly - I would say even solicitously. I spent my first night in a cell at the Mannheim Police station, a building with a magnificent entry and an enormously hefty wood and iron door, reminiscent of an old German castle. Generally, the architecture is wide-ranging and you can easily infer which buildings were constructed before World War I and even before the turn of the century, 1880-1910, to which this prison belongs as well. The style of architecture is very close to my grammar school in the Black Forest, which was started 1898 and finished 1902. I assume that this prison was built around that time.
The building itself is huge and massive, of sandstone, and so precisely done in masonry that it is a joy to see such solid German craftsmanship. The roofs are of tiles. Entryways are beautifully enhanced and decorated, as are door and window frames. A feast for the eye, which I enjoyed this morning during my one-hour walk in the yard. Prima! Finally to be once again able to breathe fresh air outside on a sidewalk framed on both sides with lawn! A relief in comparison to the cement and steel of the past two years - only it was bitterly cold!
A few pointers as to my accommodations. My cell - here it is called a "holding room" - is as large as it was in Toronto, with one magnificent difference - the window can be opened wide! I can really air out my room! Magnificent! I have a white porcelain commode with a plastic cover, like in a private German home. I have a huge porcelain sink. Unfortunately only cold water. There is a real mirror, not the barely functional strip of stainless steel in the shower in Toronto. I have a real tooth brush with a real handle, I have regular soap, a wash cloth, towels on hooks, my own shaving kit, even my own shaving soap (just like in my youth, I shave cold) and I have a curtain enclosing my toilet. It's not like in Toronto or the USA where there was no privacy whatsoever. Also, apparently there is no peeping hole where one could be observed 24 hours a day like an animal in a cage! What I have seen so far here in the JVA - I would say that the Americans and Canadians might take a lesson from the Germans! I would think that it could get very hot in the summer, for I have not seen any air conditioning; however, the walls are almost three feet thick and ought to help to keep the place cool. Fred Leuchter was imprisoned here for four weeks and was extremely unhappy because of the old condition of the building. I must say that went on my nerves even then, because old buildings are part of one's soil and culture, and if one has to adjust a bit, I would say that is preferable to the hodge-podge match box buildings of America or Canada!
Ernst's cell looks similar to this
This is the inside of a Mannheim Prison Cell
As the police were taking me through the city, I observed easily more than one hundred different designs and styles - architectural gems - across doors, gates, windows and even corners. Even different styles in churches and an architecturally beautiful train station. All that is for diversion.
They have strange habits here about the food. For breakfast you don't get coffee, tea, bread - nothing. All that is handed to you the evening before. Most of the prisoners have a little gadget to heat the water in a pot of stainless steel, about a pint in size. Twice a month you can buy your own coffee and tea and, I assume, condensed milk, and then you make your own breakfast. Since there is no refrigeration, it is reminiscent of my childhood and youth after the war. Even the closet that holds my clothes and the few food items looks a bit like the furniture I remember used by us poor folks in those times. Many spoiled city clickers might not like that, but for me it adds a touch of nostalgia.
Lunch is interesting as well. It is being served, again like in the war, in stacked stainless steel containers that keep everything nicely hot - my first hot meals in two years. For supper we get wheat or multi-grain bread, cheese, sausage - unfortunately no greens. However, in ten days I can go shopping. I brought some Euros along; they suffice for now; and I read in the prison paper that one can buy carrots etc.
Regarding medical treatment: I was told that I will get the same high blood pressure pills. Regarding my periodontal problems, the prison doctor immediately prescribed the herbal products [I wanted]. That means that within 16 hours I was given something that I could not get in two years in the US and Canada. I was even allowed to take it with me to my cell. That was a relief!
Fax this letter to my sons and siblings, Dr. F., Yvonne, Klaus, etc. Save your time! I think of you! Steadfast in loyalty!
Ernst Zundel
[END]
Reminder:
Help free Ernst Zundel, Prisoner of Conscience. His prison sketches - now on-line and highly popular - help pay for his defence. Take a look - and tell a friend.
http://www.zundelsite.org/gallery/donations/index.html
Please write to Ernst Zündel, let him know that he is not alone:

Justizvollzuganstalt Mannheim
Herzogenriedstr. 111
D- 68169 Mannheim
Germany
Tel. 49+621 3980, extension 217.
Help contribute to Ernst Zundel's defense, please send your donation directly to:
Ingrid Zundel
3152 Parkway #13, PMB109,
Pigeon Forge, TN,
37863,
USA.