In March of 1943, the opening of the mass graves began. The dead were disinterred, removed to the grates and burned. After the incineration, the ashes which had fallen through were removed by the ash kommando and then sifted with any remaining bones pulverized by hand or returned to the fires for further reducing.

http://www.holocaust-history.org/Treblinka/appendixd/
We see that the whole operation was aimed at a thorough disposal of the bones. One wonders why Germans did not dispose of the thinly and painfully obtained ashes in any nearby river, but let's say that they were in a hurry, that there were too many ashes produced, that they did not want the Polish population to see these ashes, or as usual in WW2 genocidal matters that they were somewhat bird-minded. They prefered to re-bury the ashes at the very spot of the genocide.
/*****************************/
In addition, at Treblinka at least, machines were used to crush the bones of the bodies so that no trace would be left. But it did not always work. Sixteen years later, in 1959, historian Martin Gilbert had the following experience on a visit to Treblinka:

I stepped down from the cart on to the sandy soil; a soil that was gray rather than brown. Driven by I know not what impulse, I ran my hand through that soil, again and again. The earth beneath my feet was coarse and sharp: filled with fragments of human bone.(28)http://www.holocaust-history.org/operation-reinhard/
Martin Gilbert was not very inquisitive, to say the least. He was a man of unexplained impulse, yet he was unattached to explainable curiosity. Indeed, the first thing I would have done would have been to pick up a spade and to dig out from the soil, which was by providence still grayish and not yet covered with sediments 14 years later, some of these fragments lying so close under the surface, and then to shoot a few pictures for the world to see.
******************************
But more interesting are these three pictures which were taken in 1945 as written here (
http://www.deathcamps.org/treblinka/lasttracks.html
), and supposedly in Treblinka.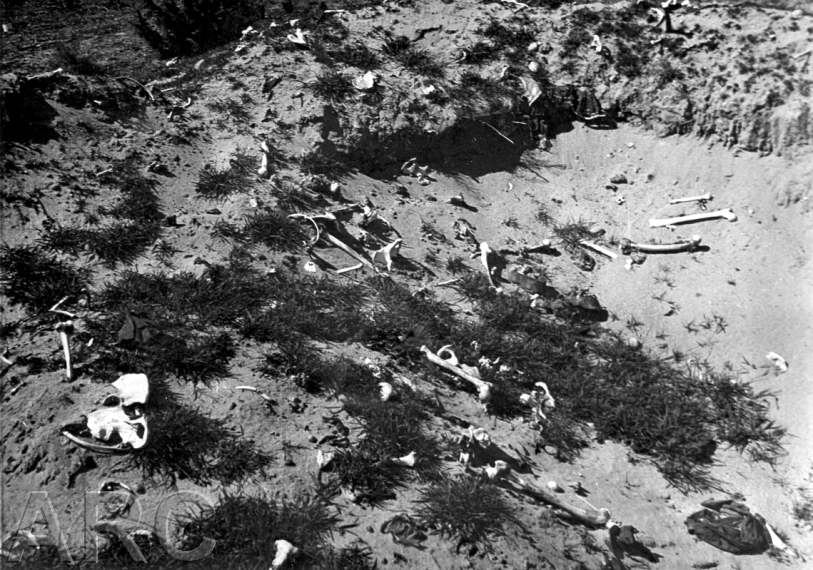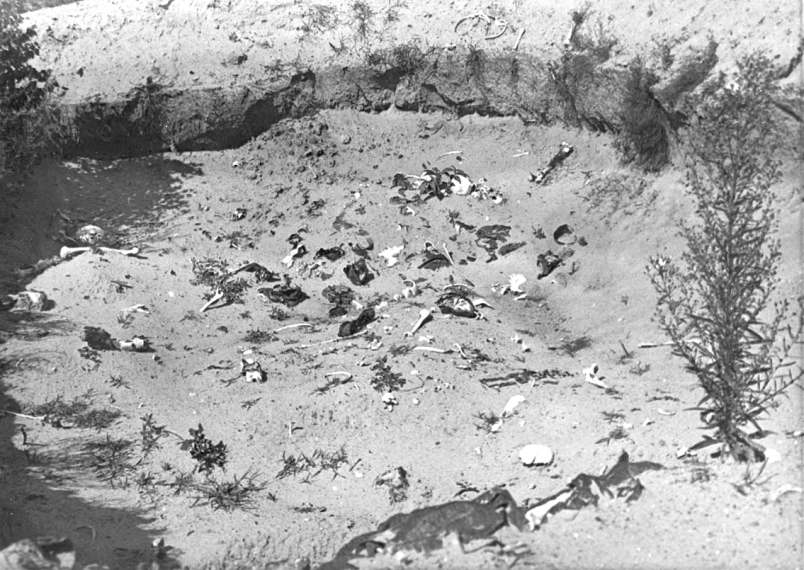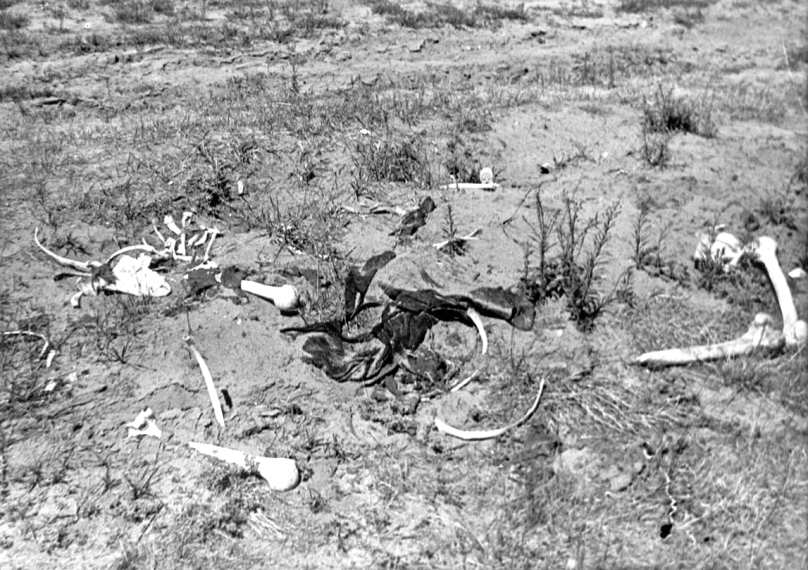 I see earth with bones onto. I also see that there was already some vegetation already growing back.
1) The bones are remarkably harmoniously scattered on these pictures. But let's say that the photographer centered his shoots well, or even that he moved a few bones in order to get a better view. That would not have been very blamable. I wonder why there is a piece of clothes on the third though (????).
2) Above all, the bones are simply NOT CRUSHED. Not poorly crushed, not partially crushed, they appear NOT CRUSHED AT ALL. And not burnt apparently. I see one full crania, plenty of intact femurs, many intact or nearly intact ribs, and one very discernable pelvis.
The bones we see did not pass through the bone-crushing process, by all evidence.
But I do not pretend to be a specialist. So does anybody know what professional revisionists have to say about these pictures, which are strange by me?