The real German gas vans
Vehicle for Decontamination of Clothing (Kfz. 93)
This has a large, closed body with heavy doors at the center of the left side, giving access to the chamber in which contaminated articles are arranged for treatment. Decontamination may be carried out by steam or hot-air treatment, mixed with suitable chemicals where necessary. The vehicle is completely equipped with an oil-fired boiler, fans, water tanks, etc., necessary for the work. This machine, like the personnel decontamination truck, is a six-wheel Henschel 23 feet 3 inches in length, 8 feet 2 inches in width, and 10 feet in height, weighing 9.7 tons.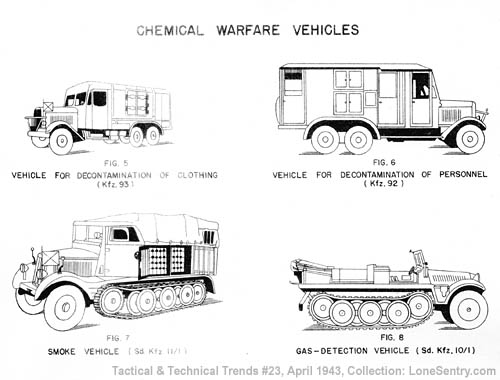 German Chemical Warfare Vehicles, WWII Tactical and Technical Trends, No. 23: April 22, 1943 (Lone Sentry)
EinheitsDieselKfz93 (bottom)
Kfz. 93 or Sd. Kfz. 93 (Sonderkraftfahrzeug abbreviated Sd.Kfz., German for "special purpose vehicle")
In January 1942 the Allied press reported: "Mobile [German] delousing squads with special vans are working hard in the regions bordering on Russia" - 06 Jan 1942 - SPOTTED TYPHUS RAGES IN EASTERN EUROPE Frantic G....
Older mobile delousing zyklon gas chamber:
Zyklon Wagon 1922
But in spite of those gassing technologies in their possession the Nazis allegedly preferred to gas numerous people with Diesel CO-free fumes sent in a hermetically sealed box that would have quickly exploded because of the internal pressure and killed nobody in sensible periods of time because of the too low level of carbon monoxide in Diesel fumes.
I don't know if those delousing gas vans gave the Soviets the idea of the alleged "Nazi gas vans" but those murder weapons were first talked about during Soviet 'trials' in 1943 (Krasnodar, Kharkov). I've also heard stories of Soviet murder gas vans used during Stalin's purges of the 1930's but I don't know if those stories are reliable or not.
__________________
« Nous ne supporterons jamais que sur notre continent, l'étoile juive éclipse le soleil aryen! » (Rivarol, 7 juin 1951)
« Il faut bien comprendre que cette guerre n'est pas contre Hitler ou le National-Socialisme, mais contre la force du peuple allemand, qui doit être écrasée une fois pour toute, indépendamment du fait qu'elle soit entre les mains d'Hitler ou d'un prêtre jésuite. »
(CHURCHILL, 1940)
«Nous imposerons cette guerre à Hitler, qu'il la veuille ou non. » (CHURCHILL, 1936)
http://www.stormfront.org/forum/t948423/
Jerzy
http://www.polskawalczaca.com/viewtopic ... 36&t=20707