While the bizarre standard 'holocaust' storyline remains generally untouched in the piece cited below, we do see some Revisionist leanings, or perhaps
yearnings
.
Witch doctor & 'holocaust' mystic Elie Wiesel is taken to task for his support of racist apartheid Israel, while at the same time some of his written nonsense is exposed as fraudulent, as has been done repeatedly at this forum.
You can also read some nutty 'holocaust' gems uttered by the likes of Raul Hilberg.
Clearly the ship Auschwitz is taking on water, now thanks to a more mainstream media source.
Note, you can also post comments.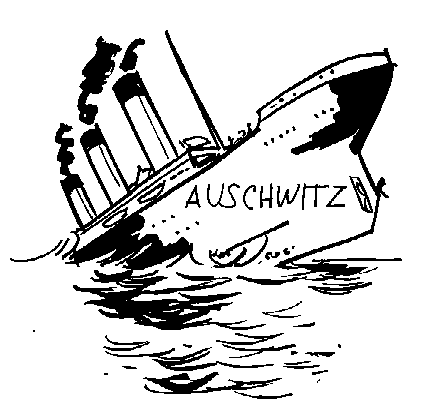 full text here:
http://www.unz.com/acockburn/truth-and- ... ent-750455
Truth and Fiction in Elie Wiesel's "Night"
A Moral Fabulist
By Alexander Cockburn
excerpts:
Though Wiesel offers himself as a paragon of moral virtue, the truth is somewhat seamier. As detailed in this myth-shattering piece by Alexander Cockburn from the February 2006 print edition of CounterPunch, Wiesel assiduously campaigned for the Nobel Prize and has for decades tried to pass off his short book "Night" as a true account–a "testimony" in his words– of his experiences at Auschwitz, even though key scenes in the book have been exposed as fiction.

Nonetheless, over the next few days there were articles in the Jewish Forward and in the New York Times, also a piece on NPR, saying that Night should not be taken as unvarnished documentary. In the Forwardarticle, published January 20, challengingly titled "Six Million Little Pieces?", Joshua Cohen reminded Forward readers that in 1996, Naomi Seidman, a Jewish Studies professor at the Graduate Theological Union in Berkeley, California, had compared the original 1956 Yiddish version of the book with the subsequent, drastically edited translation.

This reverent tone about Wiesel and his work is customary. People mostly write about him and his work with the muted awe of British tourists reading guidebooks to each other in a French cathedral.

I asked Hilberg what accounts of the death camps and the Holocaust did he admire most. "That really depends on the reader. I don't have that kind of favorite. For my purposes, obviously they have to be correct. There's an account by Filip Mueller, who was on the gas chamber detail in Auschwitz in 1942, written in collaboration with two people:Eyewitness Auschwitz. It has to be read with care. Another book is Rudolf Vrba's I Cannot Forgive, written with Alan Bestic. Vrba escaped from Auschwitz. He became professor of pharmacology at the University of British Columbia. This is the most remarkable of survivors, a man of absolutely incredible energy and abilities. In sheer ability to cope with the situation, this man is beyond belief."
The 'holocaust' storyline is one of the most easily debunked narratives ever contrived. That is why those who question it are arrested and persecuted. That is why violent, racist, & privileged Jewish supremacists demand censorship. Truth needs no protection from scrutiny.
The tide is turning.
- Hannover