A survey:
Sites Where Alleged Mass Graves / Human Remains Are Physically Obstructed, Blocked from Forensic Excavation
Here are some examples of how the 'holocaust' Industry has blocked, covered, physcically prevented excavations of areas where they claim enormous amounts of human remains of dead Jews can be found.
These obstructions to forensic excavations/digs pictured below are of Treblinka and Belzec.
I do realize that there have been no actual verifiable excavations/digs of alleged mass graves that can be shown which confirm the claims within the 'holocaust' narrative.
I do realize that legal permits for any future verifiable, viewable, scientific excavations/digs are not likely to be permitted for these shielded areas.
However, I would like to discuss and hopefully see images of other examples of such physical impediments at other sites where mass extermination was supposedly carried out and where enormous amounts human remains are said to be present.
Thanks, Hannover
Treblnka:
Belzec: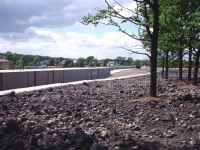 The 'holocaust' storyline is one of the most easily debunked narratives ever contrived. That is why those who question it are arrested and persecuted. That is why violent, racist, & privileged Jewish supremacists demand censorship. What sort of Truth is it that crushes the freedom to seek the truth? Truth needs no protection from scrutiny.
The tide is turning.