Another silly holocaust story to poision kid's minds
A supposed holocaust train sits in downtown Chicago
Here were the real trains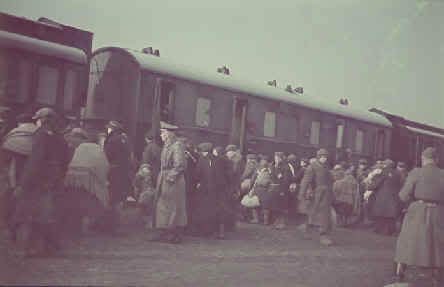 What nonsense
This crazy Jew says he was in this boxcar. He says he breaks down and cries when he sees a train. $ 50 says this 'Survivor' sat out the war in Milwaukee.
Rail car recalls painful history
Ceremony to mark role in Holocaust
By Ron Grossman
Tribune staff reporter
Published November 9, 2005
Though he's not the type to let his emotions show,
Sam Harris has a tough time when stuck at a railroad crossing behind a slowly moving train. When a cattle car or a boxcar rumbles past, the tears flow uncontrollably.
Yet he is going out of his way for a rendezvous with the kind of freight car into which he and myriad others were loaded during the darkest days of World War II. He was 8 1/2 years old then. The adults crammed in around him were crying and screaming.
"The train went slow; when it stopped we could hear children playing, dogs barking," said Harris, 70. "I wished I was a dog, just to be out of there."
On Wednesday, Harris will be at Block 37 in the Loop for a reception, if that is the appropriate term. Our social vocabulary fails when the guest of honor is an aged German railroad car. The occasion is the 67th anniversary of Kristallnacht--"the night of broken glass"--anti-Semitic riots in Nazi Germany that marked the beginning of the end for European Jewry.
Mayor Richard M. Daley is scheduled to attend the commemoration. So, too, is Mayor George Van Dusen of Skokie, where many survivors of Hitler's death camps found refuge after the war. Now, their numbers dwindling, they worry that their story will be lost when they, too, are gone.
Link to article