RAF's wartime reconnaissance photos go online in new archive

Dramatic pictures illustrate Allied assault on D-Day and bombing raids over Germany. By Lewis Smith

Bombs, bullets and rockets were the usual weapons on aircraft flying over Europe during the Second World War but it was often the camera that proved the most deadly. Photographs provided the generals and intelligence officers with vital information that they used to direct their forces or to out-guess the enemy.

Thousands of the photographs aircrew risked their lives to bring back are now being made publicly available for the first time. The first batch of 4,000 pictures that have remained in storage since the war go online today in a project to make up to 10 million air reconnaisance pictures available.

Images that can be seen include photographs showing the progress of the Allied invasion forces on D-Day, 6 June 1944. So detailed are the photographs that individual vehicles can be seen leaving landing-craft.

http://www.independent.co.uk/news/uk/this-britain/rafs-wartime-reconnaissance-photos-go-online-in-new-archive-1825926.html
Here is the site:
http://aerial.rcahms.gov.uk/
I searched 'Auschwitz'. This is all they have I think.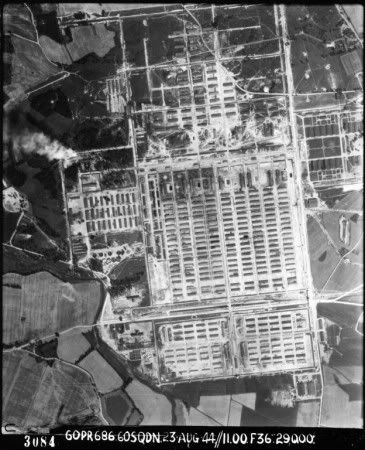 Auschwitz Concentration Camp (Auschwitz-Birkenau)

Unique photograph shows clouds of thick smoke rising from the Auschwitz camp. At this stage in the history of Auschwitz, in the final months of the war, we now know the number of people being killed was so high that the crematories were unable to burn all the corpses.

This image graphically illustrates, the burning of these mass funeral pits. When viewed at high-resolution, prisoners can be seen on roll-call. The camp commandant, Rudolf Höß, testified at the Nuremberg Trials that up to 3 million people had died at Auschwitz.

http://aerial.rcahms.gov.uk/database/results.php?PHPSESSID=s3heiftqu37on3k7sd4ukqnsd2&search_term=Auschwitz&QUICKSEARCH=1
Do we have a handle on that smoke? Is that the janitor burning rubbish again? It's right in the corner where I'd put the incinerator. I don't remember seeing that on Balls site. Then again, it's hard to tell with black & white photos. Too bad it's not in colour. That could be Aunty Esther going up in smoke.