~
Janusz Korczak was a Polish author, physician, and child pedagogue.
He was famous in Poland much due to his writing is his fiction and pedagogy specially his children book like Kaytek the Wizard - was seen as part of the Polish canon of children's literature. It was highly popular during the 1930s, both in Polish and translated into several other languages. In more modern reviews and discussions, the book has been often compared to the Harry Potter book series.
In in 1940, his orphanage was forced to move from its building into the Warsaw Ghetto. When the evacuation of the ghetto started the sad reality was that the children of the orphanages lacking any working permits where among the first to go. Korczak who was a famous figure in Poland was offered a number of times to save himself and leave the Ghetto , but refused to leave his children behind.
On August 1942, German soldiers came to collect some 200 of the children of the orphanage as well as a dozen staff members to transport them to Treblinka.
Many In the Ghetto saw this odd procession led by Janusz Korczak of the children marching to the Umschlagplatz.
Some here want us to believe the nothing evil happened to them , they even mock the raising of the most obvious and demanded question - what happened to them ?
Yet i think this questioned should be asked , So i ask you again , specially to those " transit theory fans " , what happened to this children ? how is it possible that 200 children went on a train yet non of them ever surfaced or reappeared or seen ever again ?
~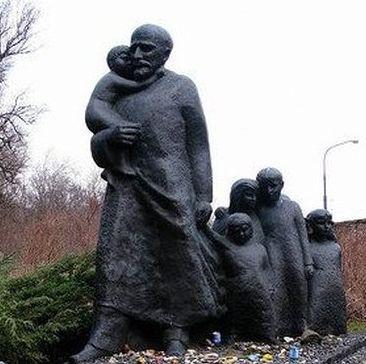 Memorial to Janusz Korczak — Warsaw