Moderator: Moderator
---
Valuable asset

Posts: 2362
Joined: Tue Dec 07, 2004 1:42 am
Location: Northern California
It's outrageous. His toy company is apparently huge, with a huge amount of employees.

He should write a book: "How to slander a nation while telling some great cocktail party stories"

Can you imagine him with a cocktail in his hand, at a dinner party, everyone listening closely around a table, and then he tells the part where he found the sack in the clearing. In it were "sausages, a swimsuit, a shaving kit, and a loaded gun!" And as the crowd swoons in admiration. Some guest at the table then says "Fred! you are quite the he-man!"
---
---
Valuable asset

Posts: 981
Joined: Sun Nov 20, 2005 8:00 am
Location: Somewhere in Europe
The only Jewish witness to testify about Treblinka at IMT Nuremberg was Samuel Rajzmann. No-one named Kort or anything similar testified during that trial.
The journalist could easily have disproved this claim (if it indeed emanated from Kort) by googling the online IMT transcript found at the Yale University Avalon project website.
But of course, the claims made by the saintly "survivors" are never checked, least at all by the media.
Kort was born in Leipzig on July 8, 1923, to parents of Polish-Austrian descent. He and his family were among 22,000 Polish Jews kicked out of Germany and sent into a stateless limbo after the war broke out. Kort was slated for death at Treblinka in August 1943 but bluffed his way out of the extermination compound and into Treblinka's labor camp, until the day in 1944 when the Red Army closed in.
Treblinka I was 2 kilometers south of Treblinka II. There are witnesses who say that Jews from Treblinka II sometimes did work at the labor camp - a bit weird considering the secrecy that allegedly surrounded the latter camp.
More on Kort:
http://www.juedisches-leben-in-breisach ... kort1.html
He abandoned such thoughts in July 1943, when the Germans summarily collected Kort and 2,000 other Jews and packed them into cattle cars headed for Treblinka. The train crawled for two days, and people perished. Those who didn't were shoved into a selection process aimed at sending around 300 of the strongest to the work camp called Treblinka 1 and the rest to the gas chambers of Treblinka 2. From the grass on which all the Jews huddled, one man rose to plead for the work camp and was immediately shot. Kort nonetheless also rose and in German said rapidly that he was an electrician--true, sort of, since he'd been an apprentice before the war--and could be useful. A German raised his gun. He then waved Kort to the work group.
Jews being selected for work at Treblinka Labor camp? I have never heard of anything like that before.
According to this map however there were barracks for Jewish prisoners at Treblinka I: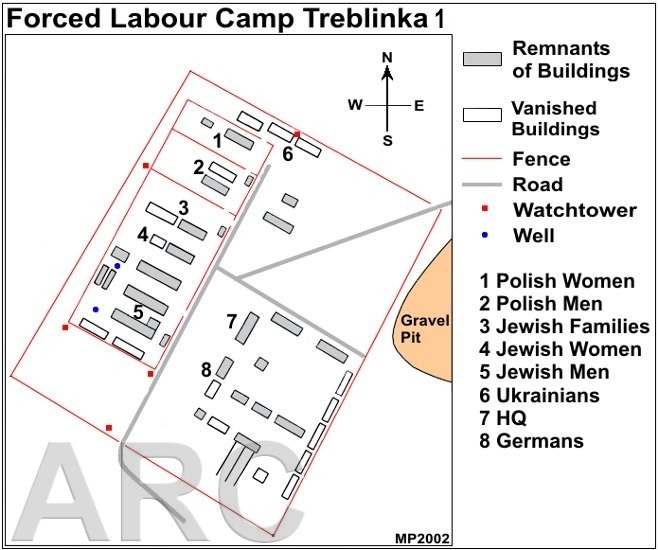 On Kort's escape from Treblinka I:
And then--we know this scene from fiction, except that this was not--Kort covertly watched the guards patrolling the camp's three rings of fences, discovering that their rounds were at intervals of 15 to 20 minutes. When the moment seemed right, he took a spade and ran for the fences, there finding the ground so softened by rain that he could dig under them easily. As he crossed a corn field outside the fences, sentries in the camp's towers tried to shoot him down, but he zigzagged into woods just beyond. He walked all that night and in the morning discovered that he must have gone in a circle, because he had returned to the camp's edge and to mass graves that held the hundreds of Jews murdered on the previous day.
Three rings of fences? Looks more like one fence to me:
Here's an article written at the time of Kort's death:
http://www.jewishjournal.com/home/preview.php?id=11041
"Fred had a photographic memory for the Holocaust from his experience," said Ron Solomon, executive director of West Coast Friends of Bar-Ilan University. "The only map that exists of Treblinka [burned down by the Nazis before the war's end] is one that he drew from memory for a Nazi war crimes trial in Chicago that he testified in. And that map was used throughout the trial. He also testified at Nuremberg."
Wow, what a scholar! "He also testified at Nuremberg" - never bothered to check the documentation? Was it a map of Treblinka I or II? Were can we see it? What Chicago Nazi trial by the way?
---
Valuable asset

Posts: 2362
Joined: Tue Dec 07, 2004 1:42 am
Location: Northern California
And, according to the story, they weren't sending large transports to Treblinka in July 1943, they were wrapping up the task of digging up all the graves.
And his "traveling around in a circle" is a story that floated around. I believe Samuel Wilenberg tells the same story that he supposedly traveled around in a giant circle too, in his book. Funny how that railroad track doesn't clue people in to the giant circle they're traveling in.
And that digging under the fence with that little window of time of not 1 minute, but 15-20 minutes, for a sentry to make the rounds. LOL.
There's two stories to how he survived. One is that he his in a shed, and the other is digging under the fence.
Apparently he died in 2003:
http://www.jewishsf.com/content/2-0-/mo ... story.html
Nice job Dahl, in pointing out more problems with multi-millionaire Kort's lie.
---
Member

Posts: 35
Joined: Wed Feb 14, 2007 1:38 pm
Location: Western NY
I don't understand why there wouldn't have been a compass included in the bag he found, after all, it was supposed to be a utilitarian collection.
There are none so blind as those who will not see.
---
Now there's a video on Fred Kort and his exploits, see:


-haldan
---
This requires no more analysis or explanation

The guy is a liar and fantasist as are most of his co-travellers.

Why they bother pushing these accounts forward I do not know unless they think the hoax is so well established we will accept the diamond swallowing/wolf caring family/twitching muscle sausage stories without even thinking twice.

If we do we deserve all we get.

Best regards
---
Valuable asset

Posts: 2514
Joined: Fri Aug 26, 2011 5:52 am
Location: Europe
The lies and fantastic revelations of this man described in this thread are staggering. But perhaps more amazing is the response to this catalogue of make believe by the jewish community.

I wonder if the LA/US jewish community are just dumb or perhaps they know they must tow the line and never ever question these fabrications. Do they never question these lies privately? Don't they think how these stories, and of course there are many of them, debase and make a laughing stock of their overall claims in the holohoax?

Privately does the standard issue jew have any respect for the likes of this man?
'Of the four million Jews under Nazi control in WW2, six million died and alas only five million survived.'

'We don't need evidence, we have survivors' - israeli politician
---
---
Return to "'Holocaust' Debate / Controversies / Comments / News"
Who is online
Users browsing this forum: No registered users and 3 guests